What Are the Best Day Trips from Panama City?
---
Are you in Panama City ready for a short escape? Are you wondering what your options are since you have limited time? Maybe you would like to see many different things in a short time. Here is a list of day trips from Panama City for you.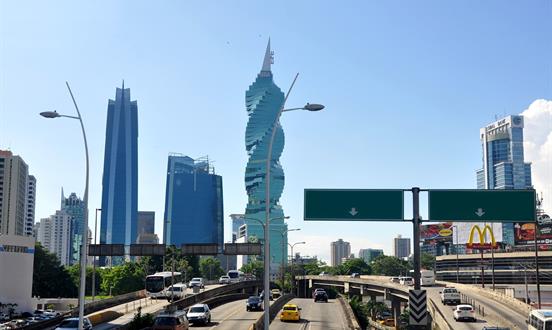 Whether you are on vacation or just passing through, there are many day trips to choose from. Everyone has their own idea of what are the best day trips from Panama City, so to choose the perfect trip for you, you need to consider attractions and places to visit, duration and price. Prices in this blog are per person. There are nine primary locations you can easily visit from Panama City for a day. You can find the list below:
1. A Day Trip to San Blas Islands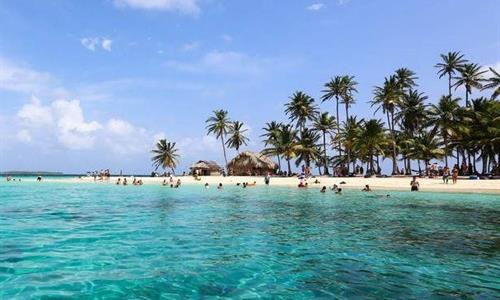 A day trip to San Blas is always a good idea, especially if you are an adventurer by heart, just like me. There are no hotel resorts, shopping centers, or anything similar in San Blas, it is a destination where nature abounds. Landscapes are to die for! They are full of crystal-clear waters and white sandy beaches.
San Blas is a 3 hour drive away from Panama City, so you will need to wake up early to be able to enjoy a full day on San Blas Islands. Tours to San Blas from Panama City generally start at 5:30 a.m, at that time your driver would pick you up and get you back to your hotel or residence in Panama City at 7:00 p.m.
There are different ways to visit San Blas. You can go by car, plane, bus, book a private transfer or go on a tour. If you are going by car, make sure it is a 4x4 or 4x2 vehicle; otherwise, the police presence that is before entering the reserve of San Blas, will not allow you to go through for security reasons. The road is not dangerous, however, there are hills that smaller cars could not climb easily.
To visit San Blas, you will need your original passport and cash since it is necessary to pay in cash some fees that are explained in more detail in our blog How Much Does it Cost to Visit San Blas in 2020?. An important fact to know is that there are no ATMs, nor do they accept credit cards anywhere on the Islands.
On San Blas there is something to do for everyone. If you want to relax, you can sunbathe, rest in a hammock while enjoying the breeze, bathe in the crystal clear waters on the beach or enjoy fresh Caribbean food. If you are more adventurous, you can do island hopping, snorkelling, paddleboarding, or visit a natural swimming pool. There are many day tours in San Blas that include these types of activities.
You can book your day trip to San Blas at Tiqy.com, booking.com, or other similar websites. You can also find different San Blas tour operators by searching for "San Blas Tours" on Google.
Many of the operators are on Instagram, so you can send a message directly to them to coordinate your tour. The prices of the San Blas Full Day Tours from Panama City generally range from $ 115 onwards.
2. A Day Trip to the Panama Canal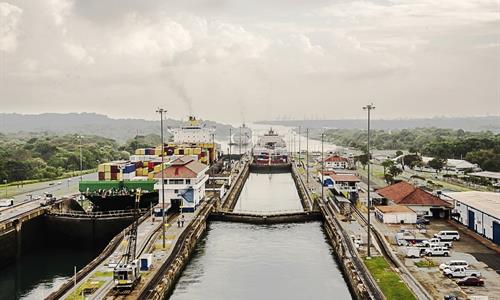 The Panama Canal is one of the world's biggest wonders and achievements. If you are in Panama, you have this unique opportunity to see it in real life.
You can see the Panama Canal while doing different activities such as tours aboard one of the tourist boats that pass through the Panama Canal, kayaking on Gatun Lake, or while enjoying one of the Helicopter Tours in Panama City. These options are only available on tours.
Another popular way to see the Panama Canal is by visiting one of the Canal Locks (Miraflores Locks, Gatun Locks, and Pedro Miguel Locks). The closest locks to Panama City are the Miraflores Locks and you can see them from the Miraflores Locks Visitor Center, just a 20-minute drive from Panama City. You can go by car, bus, taxi / Uber, or on a tour.
In the Miraflores Locks Visitor Center you can see the magnitude of this engineering marvel. A local guide will narrate the operation of the locks while you watch the ships transiting the Panama Canal. You can do different activities at the Miraflores Locks Visitor Center such as visiting the Panama Canal Museum, the Canal cinema better known as IMAX, or eat at the Canal restaurant while enjoying the view.
The Visitor´s Center is open from 8 am to 5 pm (tickets are sold until 4:30 pm) every day. The entrance ticket will cost you $ 20 if you are a foreigner and $ 5 if you are a resident.
If you are visiting the Miraflores Visitor's Center on a tour, the whole tour will last around 4 hours. It may vary depending on the type of tour you choose. Prices start at $40 and usually include roundtrip from your hotel or residence in Panama City, a driver, and a certified local guide that speaks Spanish and English. Entrances to the visitor's center are usually not included in the price of a tour.
If you want to know more about the options to see the Panama Canal, read our blog What are the Best Ways to see the Panama Canal? There are many different Panama Canal Tours you can choose from on Tiqy.com.
3. A Day Trip to Contadora Island
Contadora Island is in the Pearl Archipelago (Archipiélago de las Perlas) in the Gulf of Panama. It is one of the most visited places from Panama City due to its beautiful beaches.
To visit Contadora Island, you have to carry your original passport and enough cash because they don't normally accept credit cards on the island and there are no ATMs.
You can go to Contadora Island by ferry, plane, or on a tour. Going by ferry is the cheapest way. The ferry to Isla Contadora leaves every day at 7:30 am from the Flamenco Marina pier (check-in starts at 7 am). The boat ride will last a little less than two hours and the ticket costs $ 55 one way.
If you want to go by plane, it will cost you from $ 250 round trip and the flight can take 20 to 35 minutes in each direction. For more information, you can check the rates on websites such as Pedasí Paradise, Air Panama, or Aero Albrook. These are some of the pages that have flights to Contadora Island.
Once you get to Contadora Island, you can watch whales (from July to September), go paddleboarding, snorkelling, fishing or simply relax on the beach.
If you are going to visit Contadora Island on a tour, it will cost you from $ 50 and it includes one activity such as snorkelling, island hopping, fishing, spearfishing or whale watching, you can choose the one you want and it also includes boat rides for your selected activity. All activities will be guided by experts and regardless of the activity you choose, your guide will ensure that you live the experience to the fullest. The full tour generally lasts around 9 hours. Ferry tickets are normally not included in the tour price.
4. A Day Trip to Taboga Island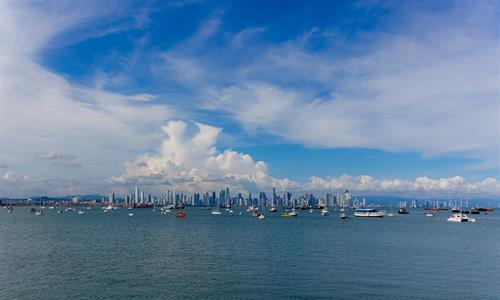 This trip is perfect if you want to make a quick and wonderful trip from Panama City. You can visit Isla Taboga by going on one of the Taboga Island Ferry Transfers or Tours to Isla Taboga. The island is very popular as it was the Pirate Morgan's favorite place to stop and rest with his crew.
The ferry to Isla Taboga departs from the Amador Causeway every day. Ferry ticket will cost you around $ 20 for a round trip.
Once you are on the island, you can walk through its charming and colorful streets. If you are interested in learning a little more about its history, you can take a historical and cultural tour in which you will tour the Island accompanied by a guide who will tell you about the history of Taboga Island, popularly known as "The Flower Island". Other activities you can do on the island are a hike to the top of the mountain El Cruce, snorkelling, or simply relax and enjoy the beach. There are chairs and umbrellas available to rent on the Isla Taboga beach.
An extraordinary way to visit Taboga Island (Isla Taboga) is on a Catamaran All-Inclusive Tour to Taboga Island. You will have to be at the Balboa Yacht Club at 8:30 am for you to check-in and at 9 am you will start sailing to IslaTaboga. During your catamaran transfer, you can enjoy a drink and some snacks along with good music and incredible views of the Panama City skyline. You will also be able to observe the big ships that are waiting to cross the Panama Canal. If you want, you can relax while you sunbathe on the nets that are on the deck of the catamaran. Once you arrive on the island, you can continue enjoying music, snacks and drinks. The tour ends around 3 pm with your arrival at the Balboa Yacht Club. The prices of catamaran tours to Isla Taboga range from $ 68 up.
5. A Day Trip to Anton Valley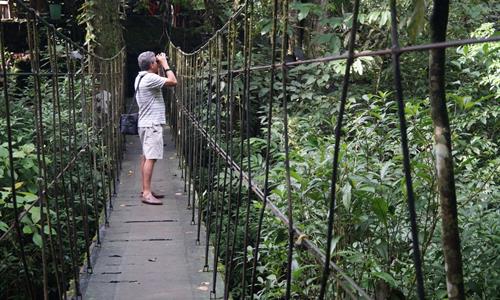 Anton Valley (Valle de Antón) is a small town, just two hours car drive away from Panama City. It is very interesting to see, and it is the second most inhabited volcano crater in the world. It also has great biodiversity and wildlife such as the golden frogs. The spring-like climate, fresh air, and beautiful hiking trails are a perfect change of environment to rest from life in the big city.
You can go to the Anton Valley from Panama City by car, bus, taxi, Uber, or on a tour. To go by bus, you will have to get to the Albrook terminal, there are many buses that go to El Valle. The bus transfer will take approximately 3 hours and will take you directly to the city center for $ 4.25 one way. The last bus that returns to Panama City leaves from the main street of El Valle at 3:30 pm every day.
Going to the Antón Valley by car will take around 2 hours. If you are going on a Friday, I recommend that you come back not too late so that you avoid getting stuck in traffic.
Once you get there, you can visit the artisan and vegetable market, go to the zoo, watch birds, go canopying, visit Chorro El Macho waterfall and go hiking, biking, or go horseback riding. Next to the church in the city center, there is also a Museum, where you can find a well-classified collection of pre-colonial art, religious art from the 19th and 20th centuries, crafts, paintings, and geological information. If you are visiting El Valle on a tour, you can also visit all these places.
A full-day tour to Valle de Antón generally starts at 7 am and lasts around 11 hours, depending on the type of tour you choose to do. Normally you will return to your residence or hotel in Panama City at 7 pm.
You can book one of our Anton Valley Tours online. You can also book with booking.com or contact one of the tour operators that you can find on Google, Instagram or Facebook. The prices of the tours to the Anton Valley from Panama City range from $ 140 onwards and include roundtrip from your hotel or residence in Panama City and a visit to the most popular sites in the Anton Valley that are the ones mentioned above.
6. A Day Trip to Monkey Islands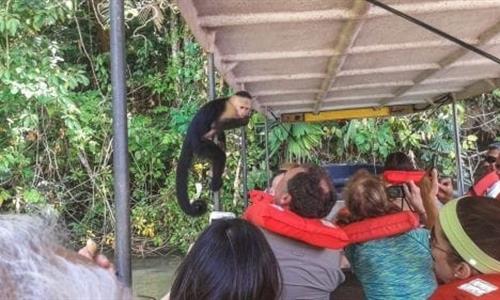 On the Monkey Island, you will see white-faced monkeys and other monkeys in their natural habitat in addition to the boats that leave the Panama Canal. To get to the Monkey Islands, you must board a boat on Gatun Lake, which is the largest artificial lake in the world. Making this lake was the first step towards the Panama Canal.
Visiting the Monkey Islands is a perfect escape from life in the big city. I recommend that you make this visit on a guided tour.
To do Tours to the Monkey Islands you will normally be picked you up from your hotel or residence in Panama City to be taken to Gatun Lake, where you will board a boat that will take you to the Monkey Islands. There are tours that do not include pick-up from your hotel or residence, in that case, you have to organize your transport to the Gamboa Public Pier (a 15-minute drive from the city) to board the boat that will take you to the Monkey Islands. From the boat, you will see the different species of monkeys and huge boats that cross the Canal. During the trip, the guide will tell about the Canal, wildlife, and nature in this area.
The Monkey Islands tours generally start at 7am and last 3 to 5 hours, depending on the type of tour you choose. Prices start at $ 85.
7. A Day Trip to Embera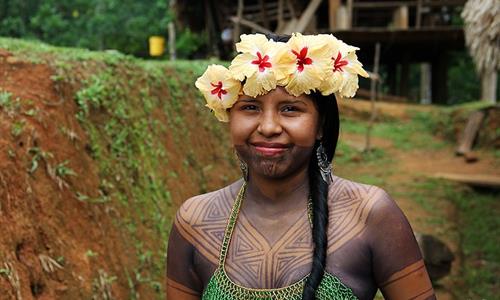 Emberá is an indigenous community rich in culture and traditions. Modern times have not prevented them from maintaining their traditions, language, and cultural roots. It is recommended to visit the Emberá community on a tour so that, transfers and tours are coordinated prior to your arrival in the community. A visit to the Emberá community usually lasts around 8 hours and normally begins at 7 in the morning.
During the Emberá Tours, you will have the opportunity to take a 25-minute boat ride along the Chagres River. During your boat trip, you will be able to observe the tropical jungle that surrounds the Chagres National Park, where you will find the Emberá Community. The Emberás have incredible botanical knowledge and you will have the opportunity to discover their natural pharmaceutical products. Maybe the Emaberás will invite you to have a skin painting on your body just as the Emberás do. The painting is extracted from a natural fruit and it is temporary.
The day would not be complete without a short walk and a visit to the Quebrada Bonita waterfall, you can enjoy a swim in its crystal clear waters. You can also buy the famous crafts made by locals. Some activities may vary depending on the type of tour you choose.
Prices start at $ 120 and normally include pickup and drop-off at your hotel or residence in Panama City, boat transfers, guide, entrance to the Emberá community, visit to the waterfall and lunch. This may vary, depending on the tour you choose.
8. A Day Trip to Portobelo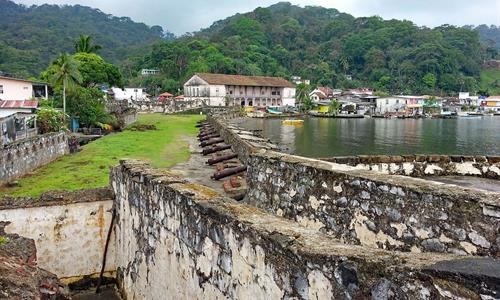 Portobelo is located on the Atlantic Coast, not far from Panama City, in the province of Colón. It has historical monuments and UNESCO World Heritage Sites. From Portobelo, you can visit many beautiful beaches.
You can go to Portobelo by car, bus or on a tour. The average journey time from Panama City in a car is around 2 hours. A tour to Portobelo will normally start at 8 am and last approximately 8 hours, you will return to Panama City at 4 pm.
Once you are in Portobelo, you can enjoy a guided tour (or an unguided tour if you are on your own) through 3 historical places in this city, such as the Battery of Santiago (La Batería de Santiago), The Black Christ Church (La Iglesia del Cristo Negro) and the Custom House (La Casa de La Aduana). You will learn the history of each place and see many different attractions, one of them is the Black Christ. Portobelo is also a very popular snorkelling destination due to its beautiful coral reefs.
If you wish, you can take a boat ride on the Portobelo Bay from the city of Portobelo. It has an additional cost that can vary according to the boatman with whom you make the deal with. If you visit Portobelo on a tour, your tour operator will gladly wait for you until you finish your boat trip around Portobelo Bay. Since the tours are operated by different tour operators, some tours may be slightly different from the others.
You can book a Tour to Portobelo on websites like Tiqy.com and booking.com. You can also search for different tour operators online. The prices for tours to Portobelo from Panama City start from $ 100.
9. Day Trip to An All Inclusive Resort in Playa Blanca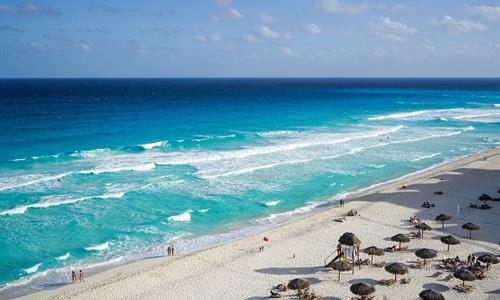 There are many hotels around Playa Blanca, some directly connected to the beach and others just a few minutes walk. Some of the most famous hotels in the area are Playa Blanca Hotel, Playa Blanca Beach Resort, Sheraton Bijao, and Royal Decameron. They are all good hotels that may vary slightly in terms of service, size, and facilities.
Many of these hotels offer all-inclusive day pass packages. These passes or "Day Pass" allow you to use the hotel facilities, such as the pool and the beach, and include buffet lunch and dinner. Its restaurants and bars often have music and parties. Foam parties during the day are also common for children, which you can also join.
These passes are not published on their websites and it is normally not possible to purchase them online through booking websites such as Tiqy or Booking.com. To obtain this information about these days and book them, you must subscribe to the hotel's Instagram, Twitter or Facebook pages. If you can't find the information on their social networks, then send them a message or call them to ask.
In my experience, what I did was call the reception, and they gave me the manager email address, there I requested the day pass information and the manager sent me the prices. We had to pay the deposit to the hotel bank account and then we paid the balance upon arrival at the hotel to enjoy our day. Prices vary massively from weekend to weekend and depend on availability, so it is best to contact the hotel directly for pricing information.
My Conclusion About What are the Best Day Trips from Panama City:
It doesn't matter if you are in Panama visiting or on vacation, there are so many amazing and beautiful places nearby that you can visit and explore in one day from Panama City and completely change the landscape. If you like to explore nature, I recommend you visit the Monkey Islands or the Anton Valley. If you are a beach lover, you can choose between the San Blas Islands, Taboga Island, Contadora Island or decide to take a day trip to one of the Playa Blanca Resorts. To explore culture and history, I recommend visiting Emberá, the Panama Canal or Portobelo.
You can pay from $ 40 to enjoy a day trip from Panama City on Tiqy.com. Here you can find different Day Tours from Panama City.
---
Comments
All opinions are of our traveller friends. Join the conversation!!
No comments yet... Be the first!