Zipline Canopy Tours in Panama: Frequently Asked Questions
---
If you are thinking about reserving or you have already reserved a zipline or canopy tour in Panama, you might have some questions. At Tiqy.com we have made a list of the most frequently asked questions so that you can get the answers you need.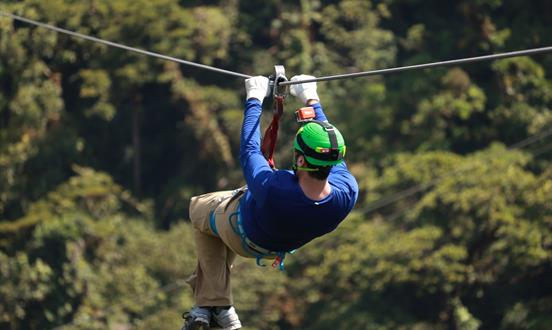 Where can I do zipline or canopy?
There are different places to do zipline and canopy in Panama. The most popular places are in Gamboa, Boquete, Lake Gatun and Anton Valley.

What is included in a zipline canopy tour?
The zipline canopy tours include the equipment to do the activity, sliding from 5 up to 12 ziplines in one session, qualified instructors, and sometimes snacks and water.
Some tours include pickup from Panama City.

What should I bring on my canopy zipline tour?
For this type of activity it is recommended to use closed top sports shoes, sun block, long pants that are not too loose, insect repellent, and water. You might also like to bring a small towel to dry yourself and the end of the tour.

Do children pay the full price of the tour?
Generally the Price for children is the same as for adults. There are normally limited number of spaces on the tour for security reasons, so there is a price for the space, so normally there are not any discounts for children.

What is the minimum age requirement for doing the tour?
The mínimum age depends on the zipline or canopy tour that you chose. Some of the tours allow from 3 years old, and others form 5 years old. Feel free to contact us at Tiqy to confirm this information for you before you reserve.

What is the maximum age for doing a zipline or canopy tour in Panama?
Normally the tours do not have an age maximum. Our operators have had people of 88 and 94 years old doing the tours. What is most important is to be of good healthy, and fit enough to do the tour.

What is the minimum weight for doing a canopy zipline tour?
Normally there is no minimum weight for doing the tour. Young children can do the tours without any problem.

What is the maximum weight allowed for doing a canopy zipline tour?
The maximum weight depends on the operator running the tour. The range normally is between 175 and 250 pounds. If you are concerned about this, please contact us to see what the specific weight limitations are for the tour you are interested in.

---
Comments
All opinions are of our traveller friends. Join the conversation!!
No comments yet... Be the first!