Review of The Premium Traveller Rooms Madrid Airport
---
The Premium Traveller Rooms is the name given to a hotel, or a set of rooms in the middle of Madrid Airport. They are not outside or near the airport, they are in the terminal itself. They are referred to as Air Rooms Madrid Airport on some websites.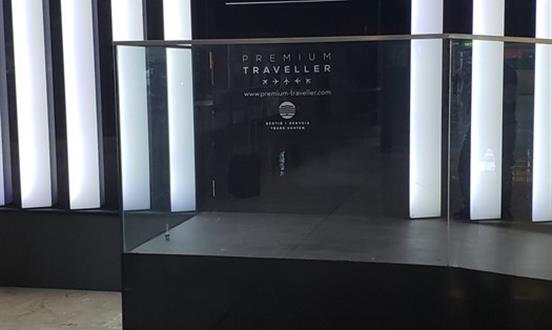 The Premium Traveller Rooms Madrid Airport are designed for people who have long waits between two flights and want to get some sleep while they wait, or a private place to shower and relax for a while with your own private room and television. I recently stayed there as I had a long trip and a 10 hour wait between flights at Madrid Airport.

Location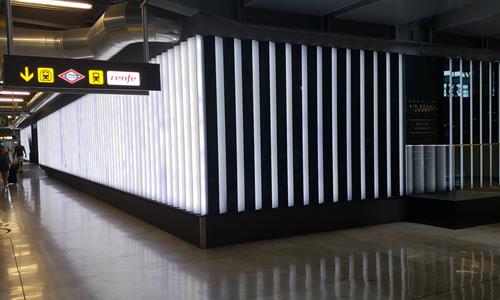 The premium traveller rooms are located in Terminal 4, outside the security gates on floor minus 1. If you arrive into Terminal 4 or the satellite terminal 4, known as 4S, you have to leave the security area and go through border control to get out to the main terminal. Which means the next morning you will have to go back through security.
The rooms are located right in front of the terminal train station, so if arriving by train, the rooms will be right in front of you when you arrive.
The best thing about the location is that you do not need to get a taxi, the rooms are actually located in the airport, and only a 15 minute walk from any of the gates in terminal 4, and 35 minutes from the gates in terminal 4S. For me the location was fantastic.

Price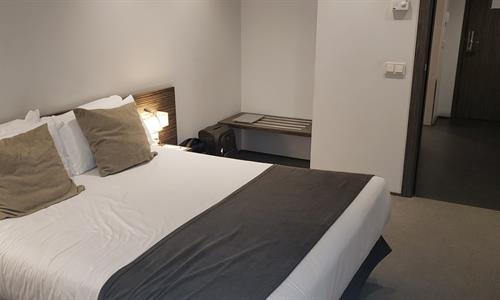 The prices seem to vary depending on what website you book and can be quite confusing because there are different options for booking. You can buy a night rate, a day rate, and both can be for 1 person or 2 people, and including or not including breakfast, and with a single bed or a double bed.
I booked directly on the Premium Traveller Rooms Website and I found it confusing. The price I paid was € 269.00 EUR for a 1 night stay, private room with a double bed for 1 person that came with breakfast. I saw other websites offering € 200.00 EUR and € 180.00 EUR, but when I searched by dates this price was not available. A 3 hour use can be from € 65.00 EUR and 6 hour use can be from € 85.00 EUR.
When booking on their website, I found the calendar frustrating to use, and it reset to a different date after scrolling down to read more, and I ended up booking the wrong date. I later emailed to change the date and they responded quickly and changed my date of booking without cost.
The Room and Wi-Fi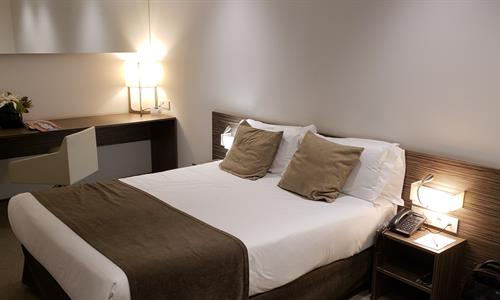 I am not sure where the name Premium Traveller Rooms comes from as I do not see a whole lot premium about it, but the standard was fine. The room was clean, the bathroom was nice, and the shower had warm water and good pressure. A small soap and shampoo was provided. There was no toothpaste provided which I think there should be for the price and it being in an airport where often people have to leave their toothpaste behind because they didn't have a check in bag. The bed was clearly a cheap bed and I could hear the metal legs moving and the old-style springs making noises. It felt more like a camping bed with nice sheets and pillows but on it. But it was reasonably comfortable.
The Staff and The Breakfast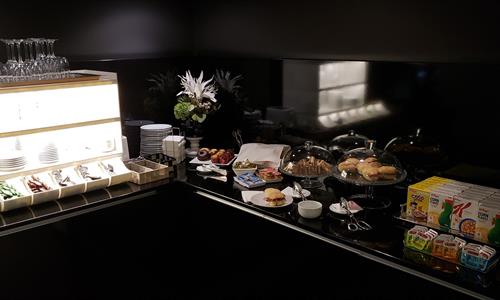 The guy at reception was professional and friendly, I had to give my passport to check-in, and he told me, as I bought on their website and paid online, I got the mini bar included for free and a free breakfast. The mini bar had some nuts and a couple of juices. The cleaning lady was nice the next morning and she went and got some toothpaste for me, as I had none and gave me a free toothbrush. She was very friendly and there to help.
There is no hot breakfast, it is self service pastries, cereals, toast, coffee, tea, juices and cold milk for cereal. There were some pastries and mini sandwiches with salami and ham which I found quite tasty. You can eat as much as you want and eat in a small area with about 6 tables and watch the news on the tv on the wall.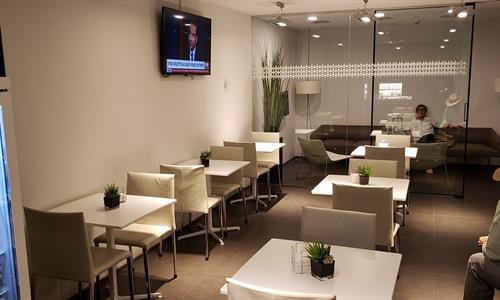 Conclusion
It is not premium so don't get confused by the name Premium Traveller Rooms. Actually, now they are calling it Air Rooms Madrid Airport, which maybe is a better name. There is noise from the trains, and from the suitcases outside and above you, the quality of the bed is not great, the bathroom and breakfast are nice. For € 269.00 EUR for 10 hours, you are paying 90% for the location. For me, it was worth it in between long flights. You could get a hotel nearby but outside the airport, but you will pay the € 20.00 EUR taxi fee to leave the airport and € 10.00 EUR to get back to the airport, and then add the time getting to the hotel and back, but there are hotels only 5 minutes away for only € 75.00 EUR per night. So, I think it depends on how much time you have and budget. There are some very negative reviews out there, but I think those people are expecting too much from rooms that are in the middle of an airport terminal. I was happy to stay there. If you have more than a few hours in the airport, maybe checkout some Things To Do in Madrid.

---
Comments
All opinions are of our traveller friends. Join the conversation!!
No comments yet... Be the first!