Panama City Tours Panama: Frequently Asked Questions
---
If you are thinking about reserving or you have already reserved a Panama City Tour, you might have some questions. At Tiqy.com we have made a list of the most frequently asked questions so that you can book your Panama City Tour.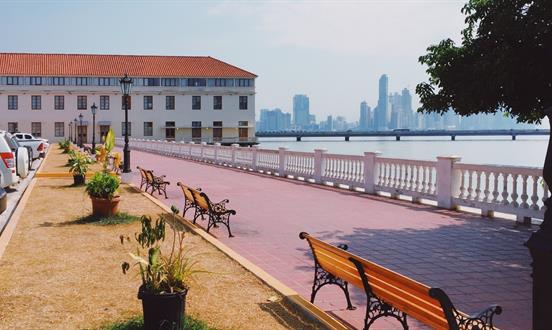 What places do you visit on a Guided Panama City Tour?
Normally the places you visit on a Panama City Tour are: Causeway Amador, The Amador Duty Free Store, Panama Canal Miraflores Visitor Centre, and Casco Antiguo (Old Casco). Some tours also bring you to Panama Viejo (old Panama) and to one of the city's big malls.

Do the Panama City Tours include hotel pickup and drop off?
Yes, the Panama City Tours that are available on Tiqy.com all include hotel pickup and drop off. Some operators also include residence pickup and drop off. If you are in a residence and the operator only offers hotel pickup, you could go to your nearest hotel and get picked up there.

Can I choose which places I want to see and not see on my Panama City Tour?
The tours on Tiqy.com are predefined tours, however, if you book a private tour, you can talk to the tour guide on the day of the tour and request longer time in certain places and less time in others as long as the tour total time is not changed. If you request to visit somewhere that is outside of the defined tour, there may be additional charges payable directly to your guide.

Do the Panama City Tours offer hotel pickup in Playa Bonita?
Very few operators offer pickup in Playa Bonita, but sometimes they can do this for an additional charge, normally around 15 USD per person. We recommend you contact the Tiqy Support Team before making a reservation with pickup in Playa Bonita.

Are there any additional charges that I should know about?
The Panama City tours normally don't include the entrance fees to the attractions, such as the Panama Canal Miralfores Visitor Centre. We recommend that you review the Included and Not Included sections of each tour before making a reservation.

How much does the entrance to the Panama Canal Miraflores Visitor Center Cost?
At the time of writing these are the prices:
Adult (Panama Nationals and Residents): 5 USD.
Adult (Foreigner): 20 USD.
Children (Panama Nationals and Residents) (from 6 to 12 years): 2.50 USD.
Children (Foreigners) (from 6 to 12 years): 12 USD.
Children (6 years or less): Free
Is there an extra charge for a Panama City Tour with pickup at Tocumen Airport?
There are specific tours that start at the airport. It is not possible to reserve a regular Panama City Tour with pickup at the airport, so make sure you book the correct tour.

Can I pay the total price of the Panama City Tours online?
This depends on the tour operator. Some tours can be paid for completely online and some tours only require a deposit to be paid. When you pay a deposit online, you need to pay the balance directly to the tour operator. There are tour operators that have special requirements around the payment to them, so please read the tour details closely.

Can I pay the balance of my Panama City Tour with credit card?
The operators of the Panama City tours normally do not accept credit card, so the balance would have to be paid in cash on the day of the tour. Some operators have some special requirements around the payment of the balance of the tour, so make sure to read the details of the tour before booking.

We have a layover in Tocumen Airport, is there a city tour we can due during this time?
Yes, on Tiqy.com we have tours especially for this. The tours pick you up from the airport, gives you a Panama City Tour, and returns you to the airport again. There are different start times available for this tour, so you can pick the one that works well with your flight times.

What type of vehicle is used for the Panama City Tours?
The type of vehicle used depends on the operator and the number of people in the group. Normally single person or up to 4 people Panama City Tours are done in a regular sedan. If it is a shared tour, there are normally more people so a mini van or small bus would be used. Large buses cannot enter casco Viejo, so there are rarely 40-seater buses used.

---
Comments
All opinions are of our traveller friends. Join the conversation!!
No comments yet... Be the first!