New Years In Antigua Guatemala – The Honest Opinion
---
If you are thinking of spending New Years in Antigua, Guatemala, you are in the right place. I spent a week around New Years Eve 2017/2018 in Guatemala, more specifically in the town of Antigua, and I am going to share my experience with you.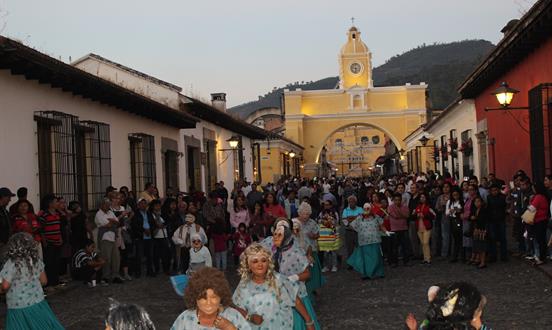 Why Antigua for New Years
Myself and my partner had no plans for new years and I saw great value direct flights to "Guatemala City" (Capital of Guatemala) so I started googling things to do for new years in Guatemala. I found various articles telling me how great it was to go to Antigua to see the culture, the nightlife, the street entertainment, the cobbled streets, and the chilly but nice climate. So we booked our flights and off we went. The days before and after New Years there are many
tours and activities throughout the country
but we were more focused on the night of New Years Eve.
Getting to Antigua By Rental Car from Guatemala City
In Guatemala airport we bought our sim cards for 50 USD each with unlimited data, and we rented our car for 125 USD for one week (we had to pay extra for full insurance, better off paying the full insurance when you get there and not the online one when reserving, because the online one doesn't stop you from having to pay a deposit when you are there). We then drove to Antigua which took us about 1 hour 45 minutes. Very little traffic and a pleasant drive with safe roads and nice views.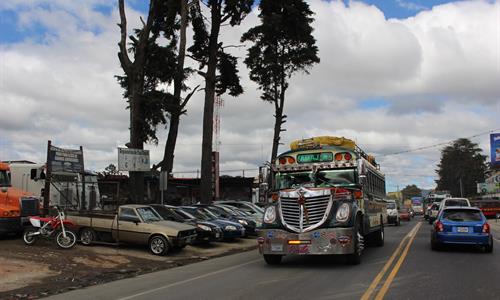 First impressions of Antigua, Guatemala 3 days before New Years
Our first impression of Antigua when we arrived was that it had small buildings, cobbled streets, lots of tourists, many travel agencies, surrounded by volcanic type mountains, clear blue skies and a nice fresh and cool air temperature. We had to drive slowly on the cobbled streets, and we got to our hotel and checked in without any issue.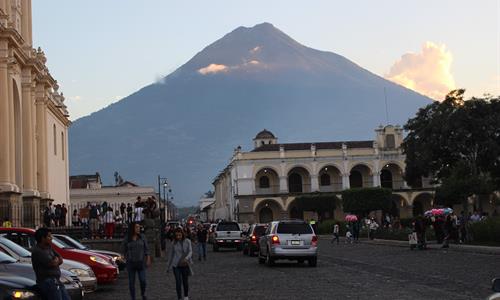 The Bathrooms in Antigua and the Customer Service
You are wondering why I would dedicate a whole section to bathrooms and customer service. It is because I have travelled many countries and lived for lengthy periods in more than 9 countries, and Guatemala had the cleanest and best kept bathrooms I have ever seen. The public bathrooms always had toilet paper and were always clean. So if you are a bathroom lover then Antigua, Guatemala is for you. Then the customer service…. I think Antigua and Guatemala in general had the best customer service of any country I have ever been to. The people were so nice and friendly, even the one street seller who I thought was going to steal my iPhone just wanted to show me how I could take better photos with a free-standing Bluetooth tripod which I did buy from him as he was the nicest street salesman I have met. The Bluetooth tripod stopped working about 2 months later, but for 4 USD it wasn't the worst investment. So for nice people, great customer service and super bathrooms, Guatemala is the place to go.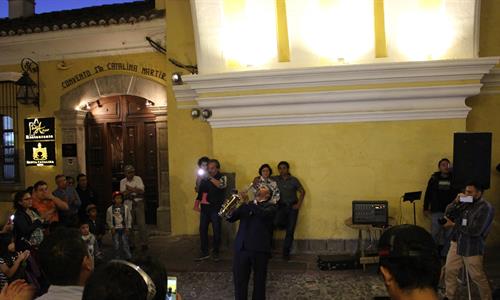 Where to go on New Year's in Antigua Guatemala
This is where my positive attitude changes a little bit. We googled New Years parties and New Years Guatemala and the best things to do in Guatemala for New Years and every combination you can think of, and many articles were telling us to go to Antigua for the party. We are a young couple and we wanted to have some drinks and listen to music and party until the early hours of the morning. This is not what we found.
3 days before New Years Eve we went to the bars and restaurants in Guatemala asking what the plans would be for New Years in Antigua. They all told us that we would have to arrive about 6pm on New Years Eve and probably should reserve our place in the bar or restaurant. There were restaurants near the famous "Arco de Santa Catalina" or in English the "Santa Catalina Arch" that said if we did not reserve we would not get in after 7pm on New Year's Eve. The Santa Catalina Arch is the focal point of the New Year's party in Antigua, Guatemala. We wanted to be close to this, so we started reviewing all the places where we could reserve. The hotels had a special menu for new year's, and some had terraces where you could see the fireworks over the Santa Catalina Arch and some had live bands. It was all very exciting really, but difficult to choose which one to go to. Others had said that it would be better to enjoy the street party and not be in the restaurants, so in the end we couldn't make up our mind on which restaurant or bar we wanted so we said we would just see how it went on the night and that we would see where the best spot was.
The Night of New Year's Eve in Antigua, Guatemala
We arrived to the main plaza and the Arch around 6:30pm. Some of the roads were closed off to cars, and there were lots of street sellers, and all the bars and restaurants were open. But there was not a lot of people. Each bar and restaurant was about 30% full in my opinion, we could choose anywhere we wanted. We had dinner in one restaurant about a block away from the Santa Catalina Arch until about 8:30pm. We said we better get closer to the Arch to get a good place to see the fireworks, so we left the restaurant and went closer to the arch. There were people on the streets and getting a little bit busier but still very calm. At this point there were some kids lighting lanterns on the streets that float up into the sky, and many foreigners were trying to master the art of lighting lanterns, but failing, and the onlookers laughing at their failures. However, we did successfully launch our own lantern, although we did need help from some local kids who knew how to master a lantern and wind.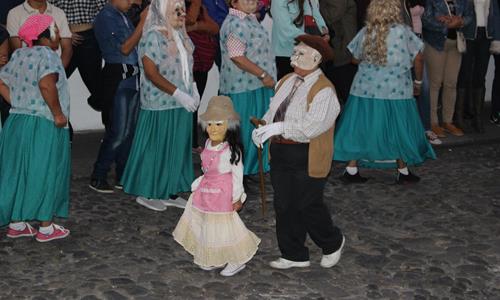 The atmosphere was good at this point and everyone having fun, but still calm and a quiet atmosphere. We then went to a wine bar on the street of the Arch which we felt would be a good vantage point for the big crowds that we thought were only moments away from arriving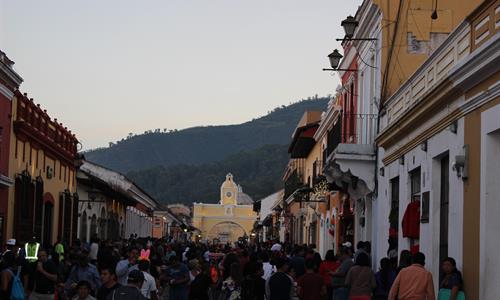 It turned out that the big crowds never came. It was posible to get a table in any restaurant you wanted right up to midnight and beyond. We left our wine bar at 20 minutes before twelve to see the fireworks, and at about 10 to twelve some fireworks started from behind the arch. We thought these were warm-up fireworks, and about a minute before twelve we saw some more from the plaza, so we turned around. We were eagerly waiting the big eruption of fireworks at midnight, but it never happened. There was no count down, there was no big fireworks display and there was no big celebration. About 30 minutes later the bars started closing. There were 2 night-clubs on the street of the arch that stayed open later, and one of them did have a queue to get into it. So we were very disappointed, we did not get the part we wanted. But I would still recommend Antigua Guatemala for New Years. But why you ask!
Why would I recommend Antigua Guatemala for New Years
Even though there was no big party on the streets, the atmosphere was that of happiness, families, kids playing, couples lighting lanterns, drinking hot chocolate in the fresh air, local street performers on different corners, I saw some of the best solo jazz I have ever heard a few hours before midnight. So, in Antigua Guatemala, don't expect a party like Times Square in New York, but expect a great local town atmosphere with some fireworks, and people enjoying the night from about 6pm until about 2am on the streets. It is extremely safe, and the service is great, and the foreigners and locals are enjoying everything together. So, if you are not looking for a party, but a nice place to spend new year's with candle light restaurants and bars, beautiful streets, nice people, family atmosphere, then Antigua should be top of your list.
We would love to hear your opinion on Antigua, Guatemala, so please leave some comments below.
---
Comments
All opinions are of our traveller friends. Join the conversation!!
No comments yet... Be the first!